Featured Artists
Sazón is proud to feature the work of some of Mexico's finest artists. Many pieces are for sale.
Julio De Rita
Julio was born in the Mexican state of Sonora and from early in his life he showed an inclination for the arts. In Julio's effort to evolve towards new themes and forms of plastic expression, a good number of works, abstract and figurative, have been produced. Some of these works remained in Europe but most of them are still in Mexico.
Fragoso Maiz
Miguel Fragoso Maiz, a resident of Tepoztlan, is a native of Mexico City. He graduated from La Esmeralda, the prestigious national art school in Mexico where he studied Plastic Arts and specialized in Graphic Design. He trained under master Artist Martha Lopez Figueroa and Edgar Guzman who provided inspiration for his artistic development.
While in Mexico City, Maiz worked as a graphic artist for Playboy Magazine, He was instrumental in developing the artist touch to the magazine. His present work represents the innumerable varieties of popular Mexican icons in his meticulous portrayals of the cultural fabric surrounding Latin America. Maiz is a discriminating observer of the world, transforming his visual recordings into a sensitive constellation of distinctions and lustrous textures expose an amazing stylistic accuracy, which Maiz achieves in a focused realism. Now he masters the art of portrait realism a rich palette and luscious brushwork infuses vitality into each of his paintings, which range from portraits to scenes of contemporary life and brilliantly observed landscapes.
Armando Adrian Lopez
Armando Adrian Lopez was born in 1965 in the town of Santa Maria in the state of Michoacan, Mexico. Steeped in the mysticism and mythologies of his native land, his work bridges Catholic imagery and beliefs, and Native traditions (prior to the European colonization of Mexico) within a contemporary context.
Lopez cites Frida Kahlo, Diego Rivera, Rufino Tamayo, Jose Clemente Orozco and David Alfaro Siqueiros as major, early influences. Lopez' intent is not to be part a particular genre; though his work is closest to Magical Realism, the figures in his paintings, upon close inspection, include facial elements that are more closely aligned with figurative abstraction, while contradictions of reality or more closely aligned with Surrealism.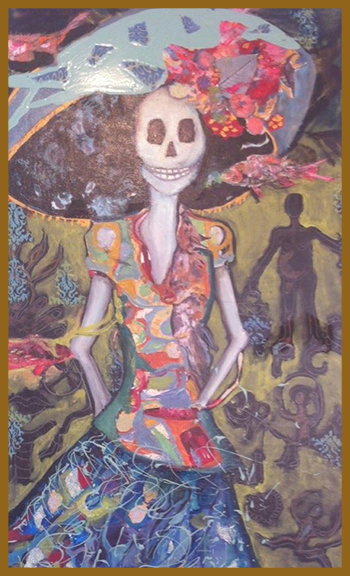 Tanya Talamante
Tanya Talamante's collage assemblages, explores our cultural fascination with physical perfection.
Blueprints of women serve as icons of timeless beauty, even as they subvert the ideal figure through deconstructed silhouettes. With vibrant color and bold pattern, Talamante grapples with the idea of unattainable beauty and the pressure women feel to become idealized forms.  Each work is meticulously constructed through Talamante's unique process, which incorporates multiple layers of paper, pain, wax and resin.
Born in Tijuana, Tanya has lived in the USA for the past 9 years. Now she and her children call Jose del Cabo their home.
She graduated from Design in Mexico and studied in the National School of Art in San Miguel de Allande, Mexico.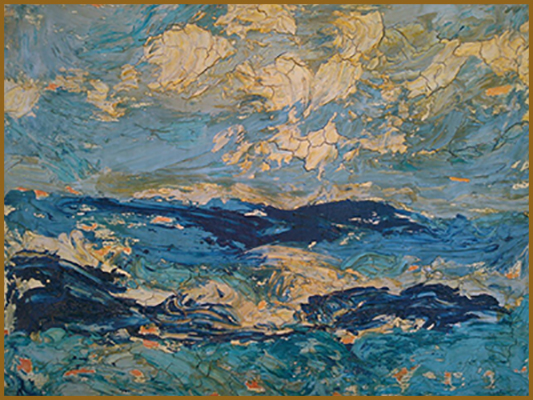 Jaznum Frogoso
With a rich palette and luscious brushwork, Jaznum Fragoso infuses vitality into each of his subjects, which range from portraits to scenes of contemporary life to brilliantly observed landscapes. His images of Baja California's varied terrain, are alive with texture and movement. Working quickly, with an emphasis on improvised brushwork, Fragoso captures the sense of dreaming "The way my paintings comes out is a function of the way I attack it," he has said, adding, "I like to work on the edge of my mind."
Born in Mexico City, Fragoso has lived in Baja California for the past 4 years, Earning his degree from the prestigious national Art School La Esmeralda in Mexico city.
Sazón | 505-983-8604
221 Shelby Street
Santa Fe, NM 87501
Dinner Monday-Saturday
Indoor Dining
5pm-8pm
(Closed Sundays)
Dress Code: Smart Casual
*All reservation times are approximate
Sazón is within two blocks from the Santa Fe Plaza, and is walking distance from most downtown hotels.
Learn how we are keeping everyone safe - New Mexico Restaurant Promise

SAZÓN

221 Shelby Street
Santa Fe, NM 87501
505-983-8604

Like being first? Then get the latest Sazón news, before everybody else.