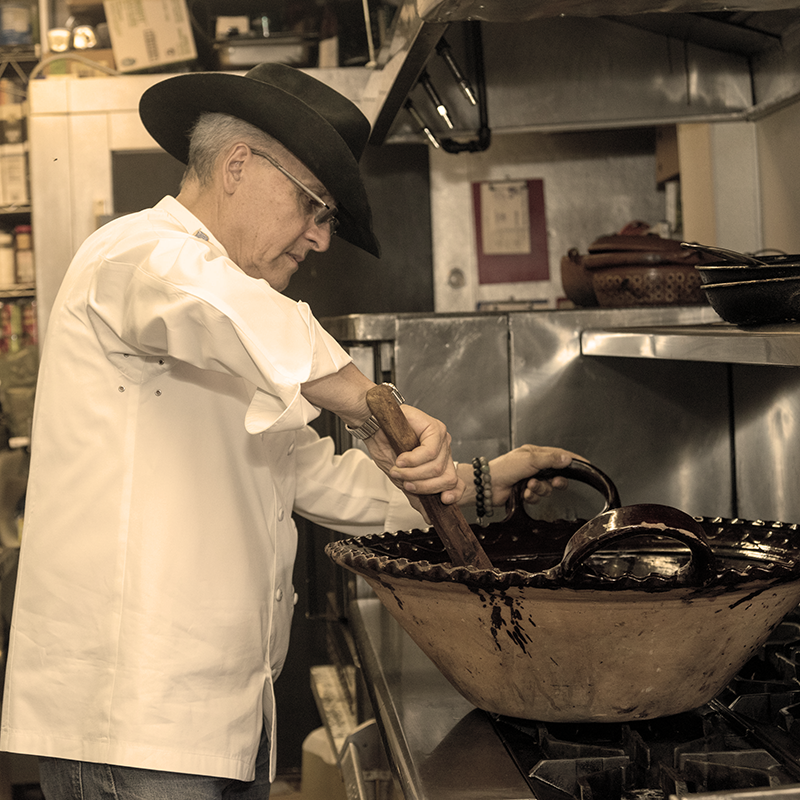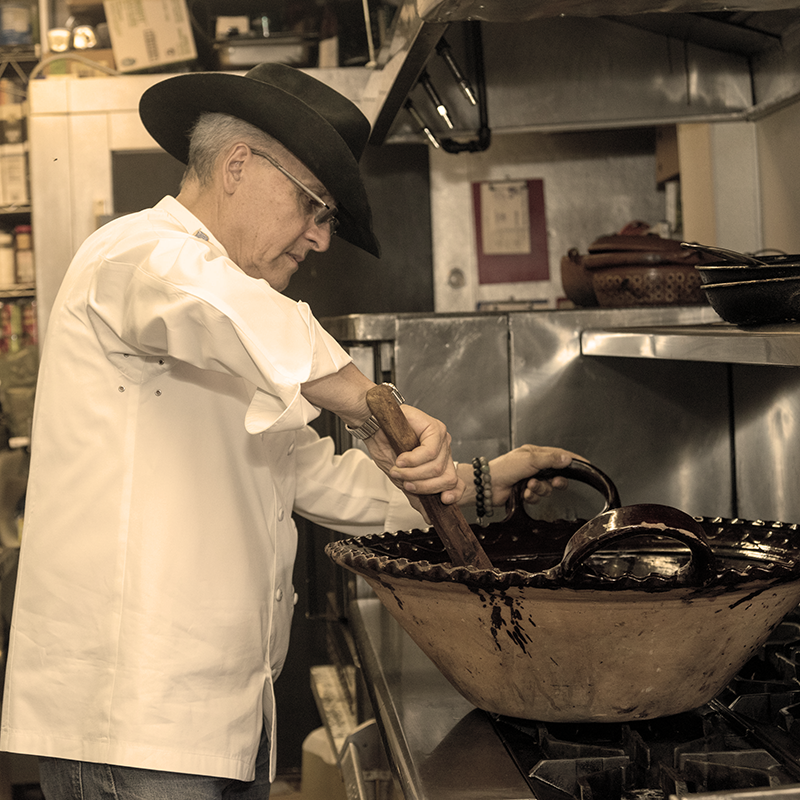 Chef Fernando Olea preparing mole
Originally from Mexico City, Chef Fernando Olea has been enthralling diners in Santa Fe since 1991 with his unique interpretation of contemporary and traditional Mexican dishes. Chef Olea creates sophisticated flavors using Old Mexico's indigenous and culinary traditions alongside ingredients from around the world. His menu is deliberately small, featuring fresh and locally sourced produce and meats when possible. Nothing evokes the mystery of Mexican cuisine more than mole, a regional dish from the heart of the country…..

Our Expanded Patio is Open
Entrance on the Corner of Alameda and Shelby
Learn how we are keeping everyone safe – New Mexico Restaurant Promise

We will continue to offer Chef Olea's Street Food for Pickup Dinner.
We are delighted to announce that Sazón is re-opening for dinner on June 5th. Our hours of operation are 4:30pm – 9:45pm Monday through Saturday. Closed Sunday.
During our closure, the Sazón team has focused diligently to improve our already high standards of hygiene and safety and to make sure that we are compliant with the most up to date New Mexico Department of Health public health order with special guidance for restaurants. The State of New Mexico has also developed COVID-safe practices for restaurants that we have adopted.  In addition to training and cleaning protocols that are compliant with the emergency health order, we have installed RestorAir technology in our building that uses advanced oxidation cell technology to create oxidizers that are then dispersed into the surrounding areas effectively eliminating contaminants and harmful pathogens. RestorAir is currently used in Marriott Hotels, Hilton Hotels, Disney Cruise Lines, Hertz and many other Fortune 500 companies. You can learn more about this technology here: https://www.duffystric.com/RestorAir-Rapid-Room-Recovery-Unit.html
Until further notice, we will be implementing the following protocols keeping the health and safety of our patrons and staff always at the forefront of our decision-making process:
To support contact tracing, we will need to track all diners and keep records for no less than four weeks.
We will accommodate no more than 25% of our fire code capacity for indoor dining.
Tables will be placed with at least six feet of distance between one another with no more than six patrons allowed to be seated at any single table.
All service requires diners to be seated before being served.
No bar or counter seating is permitted at this time.
All staff members are required to wear face masks and gloves.
We understand that some of you will choose to stay at home rather than go out. Sazón will continue to provide take away service for dinner. Since we have been providing this service for almost three months now, we regularly receive comments from our patrons who are delighted with how good the take out option is. So if you haven't tried us, do so by going online at https://streetfood.sazonsantafe.com/  or calling 505 983 8604.
The past several months have been difficult for everyone. But, we will get through this and eventually return to a more recognizable lifestyle. In the meantime, we want to assure all our patrons that we will address the safety of our patrons and staff with the same singular focus that we bring to our food, wine, service and ambiance. We hope you come and visit us soon. Our staff have been anxious to get back to work and assure our patrons the same level of food and service they have come to expect at Sazon.
Be safe and be well.
The Team at Sazón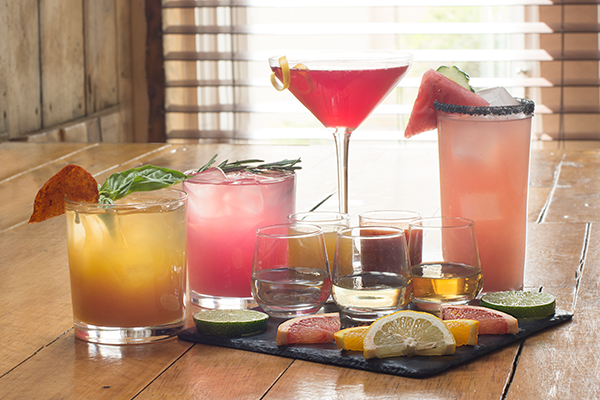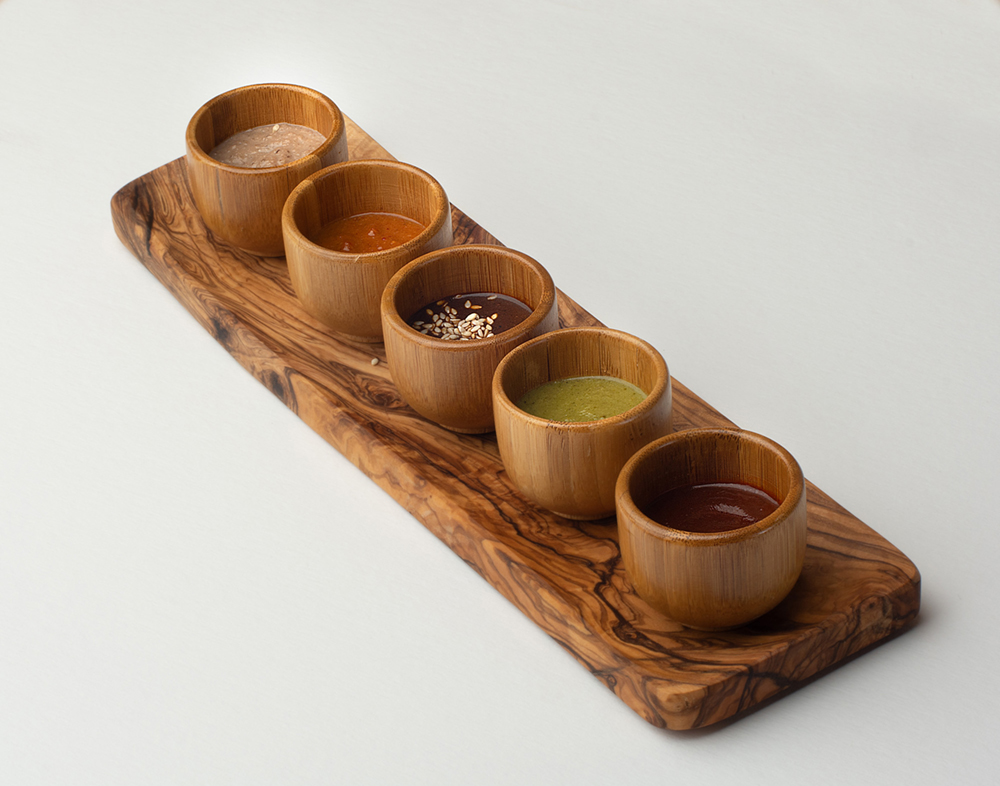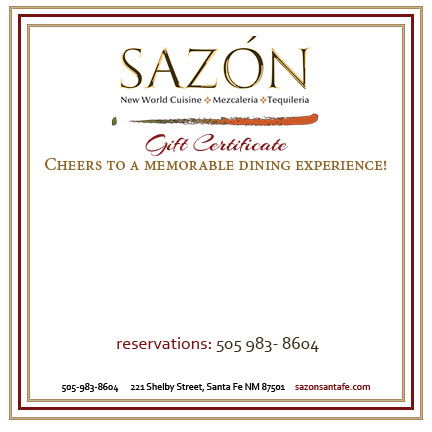 Give the gift of a dining experience at Sazón, it's perfect for any occasion, and the amount is up to you!
Sazón| 505-983-8604
221 Shelby Street
Santa Fe NM 87501
Monday - Saturday
Dinner: 4:30 - 9:45
Due to Covid-19 restrictions,  the latest reservation time available will be 7:30 pm. All Reservation Times are Estimated.
Patio Dining Available
Entrance on the Corner of Alameda and Shelby
Sazón is within two blocks from the Santa Fe Plaza, and is walking distance from most downtown hotels.
SAZÓN

221 Shelby Street
Santa Fe, NM 87501
505-983-8604

Like being first? Then get the latest Sazón news, before everybody else.