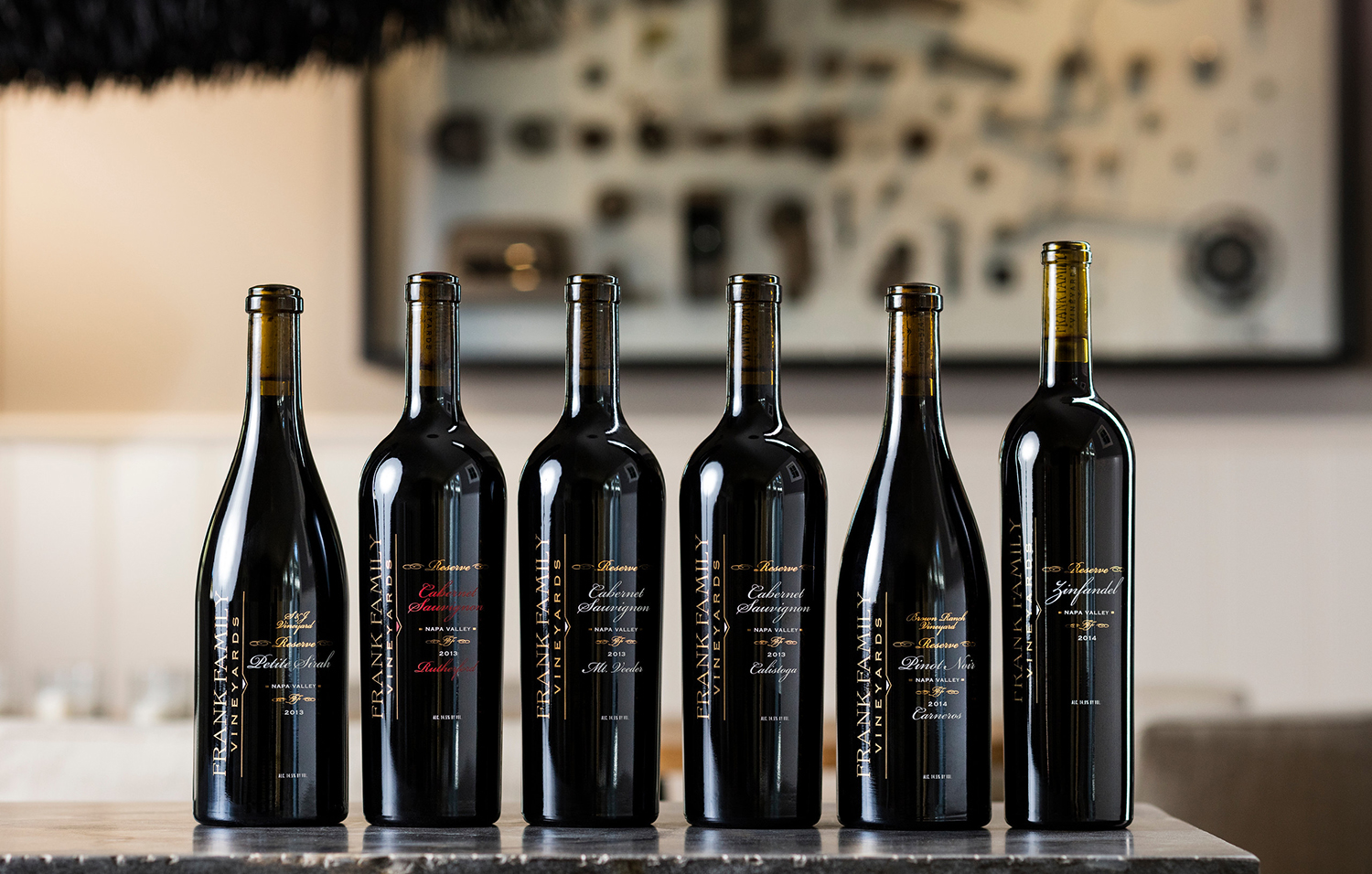 Rich and Leslie Frank established the Frank Family Vineyards, on its present Larkmead Lane site, in 1993, but the history of wine production on the property dates back to the late 19th century when Lillie "Firebelle" Hitchcock Coit  first planted vines and sourced grapes to nearby wineries. The property was subsequently acquired by Napa Valley icon John Solari in 1948 who later sold it to third generation German-born sekt (sparkling wine) maker and Holocaust survivor, Hanns Kornell, who established Kornell Champagne Cellars in 1958. Hanns unfortunately lost the winery to foreclosure and it was later purchased by the Frank Family. With a distinguished career in film and television, Rich Frank was the President of Disney Studios when he, with his wife and Emmy award winning news journalist Leslie, purchased their first Napa Valley property as a weekend retreat that also provided access to their passion for good wine. Today, 25 years later, Rich and Leslie have acquired vineyards in Rutherford, the Carneros and Vaca Mountain appellations and expanded production to nearly 75,000 cases annually.
The evening promises to be not only a delicious adventure in flavors, but also an education in Napa wine making.
Frank Family Wine Makers Dinner
September 23, 2021 at 6:30 pm
$275 per person all inclusive
We are delighted to announce that Sazon will be presenting Frank Family wines as this year's Santa Fe Wine and Chile dinner.
Chef Olea has designed an amazing meal to complement the Frank Family wines. We will be serving their Sparkling Blanc de Blanc, Chardonnay, Cabernet Sauvignon, Cabernet Sauvignon Reserve, and their very limited production Cabernet Sauvignon 'Patriarch'.
Seating is very limited
TICKETS ARE NON-REFUNDABLE
per person | all inclusive
SANTA FE WINE & CHILE WINE MAKERS DINNER
FRANK FAMILY AT SAZÓN
September 23, 2021
-ENTRADA-
MINI SOPE
smoked trout pâté
MINI TLAYUDA
huitlacoche, corn truffle
MINI TACO
duck chicharron
Sparkling, Frank Family, Blanc de Blanc, 2014
٭٭٭٭٭
-SOPA-
SOPA DE MILPA
zucchini blossoms, Mexican squash, corn, Poblano peppers, and chochoyotes
Chardonnay, Frank Family, Carneros, 2019
٭٭٭٭٭
-PLATO FUERTE-
ESPINAL DORSAL
Black Angus Spinalis Dorsi steak, the king of steaks, over Mole Poblano, corn esquites
Cabernet Sauvignon, Frank Family, 2018
Cabernet Sauvignon, Frank Family, Reserve, 2018
٭٭٭٭٭
-POSTRE-
ATOLE DE CHOCOLATE
Mexican chocolate pots de crème
Cabernet Sauvignon, Patriarch, 2016
Chef Fernando Olea